Gravity drip method
Home Care Guidelines
Dear patient,
The Home Cure Division and the treating staff wish you rapid recovery and success in your home care. This information leaflet is designed to help you perform IV treatment at home, as prescribed by your physician and after receiving instructions from the professional staff.
This leaflet describes the treatment stages and helps you perform self-care at home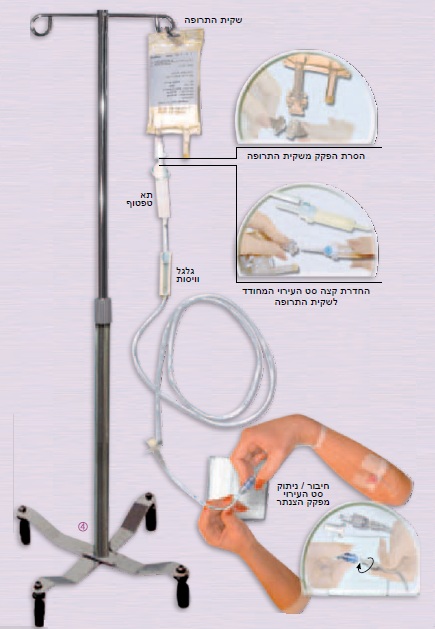 Treatment Principles
Maintain hygiene during treatment
Follow the treatment stages
Protect the catheter and auxiliary equipment
Take the medicine at specific times as prescribed by your doctor
Handling medication in the infusion bag
It is important to ensure proper maintenance of the infusion bag according to the pharmacy's instructions – at room temperature, in the refrigerator or in the freezer.
If the drug is kept in the refrigerator – take it out approx 2 hours before use.
If the drug is kept in the freezer– transfer it to the refrigerator approx 24 hours before use, and take it out of the refrigerator approx 2 hours before use.
Do not heat the infusion bag – do not heat it in a microwave oven or in any other heating device. אסור לחמם את האינפיוזר/מיכל התרופה – אין להכניסו למיקרוגל או לכל מכשיר חימום אחר.
Examining the medication bag
Verify that your name and ID No. on the infusion bag label are correct
Verify that the name of the drug and the dosage specified on the bag correspond to the physician's instructions
Verify the expiration date (always use the medication bag with the closest expiration date)
Ensure the solution is clear
Ensure the infusion bag is intact and there is no leakage
 
Required Equipment
Medication bag
Sterile pads
Infusion set
Infusion pole
Sterile sheet
Sterile gloves and maskBottle of Alcoxidine (70% alcohol+0.5% Chlorhexidine)
Syringes for catheter flushing – heparin and/or saline (NaCl 0.9%)
garbage bag
Sequence of actions for drug administration
By connecting to in peripheral catheter
Required equipment
Medication bag
Infusion pole
Infusion set
Sterile pads
Garbage bag
Bottle of Alcoxidine (70% alcohol+0.5% Chlorhexidine)
Syringes for catheter flushing – heparin and/or saline (NaCl 0.9%)
Connecting the infusion set to the medication bag
Wash your hands with water and soap and dry them
 with a clean personal towel
Place the equipment on a clean surface
Take the infusion set out of the package הוצא את סט העירוי מתוך האריזה
Close the flow regulator on the set downwards
Remove the plastic plug from the medication bag by rotating
 (on the connecting tube)
Do not touch the exposed parts of the set and the bag
Remove the cover from the tip of the spike infusion set
Insert the tip of the spike infusion set into the medication bag (by pressing and rotating)
Removing air from the infusion set / Filling the set with solution
Hang the medication bag on the pole
Press the drip chamber and fill it with fluid to half its volume
Slowly open the flow regulator upwards and let the fluid flow through the tube; ensure there is no air in the system
Close the flow regulator downwards
Connecting the medication bag
Disinfect the catheter plug in your arm using a gauze pad soaked in Alcoxidine
Take the syringe out of the package, remove the cover from the syringe and place it alongside the surface
Ensure there is no air in the syringe
Connect the syringe to the catheter plug in your arm (by pressing and rotating
Slowly inject the syringe contents
Disconnect the syringe from the plug by rotating and discard the syringe in the garbage bag
Remove the cover at the tip of the infusion set that is connected to the medication bag
Do not touch the exposed parts of the set and the bag
Connect the tip of the infusion tube to the catheter plug in your arm (by pressing and rotating)
Set the drip rate using the flow regulator according to the instructions you received
Disconnecting from the medication bag
Wash your hands with water and soap and dry them with a clean personal towel בדיקת שקית ה- TPN
After finishing the entire solution contained in the bag, close the flow regulator
Disconnect the infusion set from the catheter plug in your arm by rotating
Discard the bag and infusion set in the garbage bag
Catheter flushing
Disinfect the catheter plug in your arm using a gauze pad soaked in Alcoxidine
Remove the cover from the flushing syringe
Ensure
there is no air in the syringe
Connect the syringe to the catheter plug in your arm (by pressing and rotating)
inject the syringe contents Slowly
Disconnect the syringe from the catheter plug by rotating, and discard the syringe in the garbage bag
If medical instructions call for a heparin flush – perform another flush procedure
medication You have completed administration TPN
2.11 Disinfect the catheter plug using a gauze pad soaked in Alcoxidine – three times, using a new pad each time
2.12 Take the syringe out of the package, remove the cover from the syringe and place it alongside the surface
2.13 Ensure there is no air in the syringe
2.14 Connect the syringe to the catheter plug (by pressing and rotating)
2.15 Open the clamp on the catheter (if applicable)
2.16 inject the syringe contents Slowly
2.17 Close the clamp on the catheter (if applicable)
2.18 Disconnect the syringe from the catheter plug by rotating, and discard the syringe in the garbage bag
2.19 If medical instructions call for a heparin flush – perform another flush procedure  
medication You have completed administration
Sequence of actions for drug administration
By connecting to in central catheter
The Infusion set connection stage to medication bag
Required equipment
Medication bag
Infusion pole
Bottle of Alcoxidine (70% alcohol + 5% Chlorhexidine)
Syringes for catheter flushing – heparin and/or saline (NaCl 0.9%)
Infusion set
Garbage bag
Connection set contains
Sterile gauze pads
Sterile sheet + sterile gloves and mask
Sequence of actions
Wash your hands with water and soap and dry them with a clean personal towel
Place the equipment on a clean surface
Take the infusion set out of the package
Close the flow regulator on the set downwards
Remove the plastic plug found on the medication bag by rotating (in the tube intended for the connection)
( Do not touch the exposed of the set and the bag
Remove the cover from tip of the spike infusion set
Insert the tip of the spike infusion set into the medication bag by rotating
Hang the medication bag on the pole
Press the drip chamber and fill it with fluid to half its volume
1.10 Slowly open the flow regulator upwards so the fluid can flow through the tube; make
   sure there is no air in the system
1.11 Close the flow regulator downwards
1.12 Wear a mask (in accordance with the policy)
1.13 Spread the sterile sheet
1.14 Open the package of sterile pads without touching the contents, place them on the sterile
       sheet and pour Alcoxidine on them
1.15 Open the package of gloves and put them on while maintaining sterile conditions
1.16 Disinfect the catheter plug using a gauze pad soaked in Alcoxidine – three times, using
 a new pad each time
Take the syringe out of the package, remove the cover from the syringe and place it
    alongside the surface
Make sure there is no air in the syringe and connect it to the catheter plug (by pressing
  and rotating)
Open the clamp (if applicable)
inject the syringe contents Slowly
Close the clamp (if applicable)
Disconnect the syringe from the catheter plug by rotating, and discard the syringe in
  the garbagebag
Remove the cover at the tip of the infusion set that is connected to the medication bag
Connect the tip of the infusion tube to the catheter plug (by pressing and rotating)
Open the clamp (if applicable)
Set the drip rate using the flow regulator according to the instructions you received
Infusion set disconnecting stage
Required equipment
Bottle of Alcoxidine (70% alcohol + 5% Chlorhexidine)Required equipment
Syringes for catheter flushing – heparin and/or saline (NaCl 0.9%)
Connection set contains
Sterile gauze pads
Sterile sheet + sterile gloves and mask
Sequence of actions
Wash your hands with water and soap and dry them with a clean personal towel
Close the flow regulator
Close the clamp that is on the catheter (if applicable)
Wear a mask (in accordance with the policy)
Spread the sterile sheet
Open the package of sterile pads without touching the contents, place them on the sterile sheet and pour Alcoxidine on them
Open the package of gloves under sterile conditions
Put the gloves on under sterile conditions
Hold the infusion set with sterile gauze and disconnect it from the catheter plug by rotating
2.10 Discard the set with the bag in the garbage bag
Do not touch the exposed equipment
Awareness to flaws and defects
Intravenous (IV) medication administration (gravity drip method)
If you are not sure that, the system is working properly or if you encounter any problem during treatment – contact the treating staff
Problem

Treatment
Cloudiness of medication in the bag (discoloration, appearance of lumps)
·         Do not use the bag.

·         If the problem occurs during medication administration stop treatment immediately

·         Keep the bag for inspection and contact the treating staff

Leakage from the bag
·         Do not use the bag, but keep for inspection

 

The infusion is not draining/ catheter occlusion
·         Ensure that the flow regulator is open

·         Ensure there is no bending or folding of the catheter

·         Raise the bag higher

·         Ensure there is fluid in the drip chamber

·         Disconnect the medication tube from the catheter plug and connect a red plug to the tube – ensure to perform under sterile conditions

·         Gently perform catheter flushing using a saline or heparin syringe – according to the instructions; if is experienced resistance to flow of fluid – disconnect the flushing system and contact the treating staff/ physician

·         After flushing is completed– follow instructions to reconnect to the medication bag

Appearance of air in the tube
·         Close the flow regulator

·         Disconnect the infusion from the catheter plug

·         Remove air from the system according to the instructions

·         Restart the connection process

Blood in the infusion system
·         Ensure there is still a solution in the bag

·         Ensure the drip chamber is half full with fluid, and that the infusion set is flushed with the solution

·         Ensure the bag is at the correct height

·         If you completed the infusion, proceed according to the catheter flushing plan

Catheter is dislodged
Place a sterile gauze pad dressing on the connection site and contact the treating staff
External tear / disconnection in the catheter
Immediately close with the clamp, as close as possible to the body, and contact the treating staff
Pain, tenderness, redness or swelling at the infusion site
Stop medication administration and contact the treating staff
Rash, dizziness, chills, fever above 38 oC or any adverse effect
Stop medication administration and contact the treating staff
Leakage from the plug

Replace the plug